Weekend Informational Signs
With Artisan Direct, we will assist you in driving traffic to your website and phone
calls to your office that will increase Sales.
Looking to advertise your business on Weekends?  Let us install signs in approved locations with the marketing message of your choice.  We will handle the service turn-key – from design to print to installation and removal.  Our service will place your signs for Saturday and Sunday viewing and remove the signs for Monday mornings.  Six weeks minimum run time.  We will produce a map for your approval to make sure you get the best visibility. Please contact us today for more information.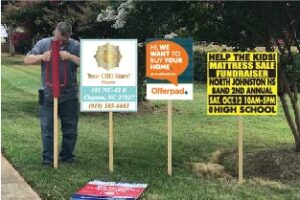 Increase Your Call or Service Volume.
Free replacement signs, only pay a placement fee
24/7 On-call support. We are here to help!
Online mapping system with customized routes
Graphic design support
Full color digitally printed signs. Don't limit your brand to 1 or 2 colors!
Low weekly pricing model
Individual market managers assigned to each market to ensure quality
Riders available on request
Mapping and placement to adhere to all local zoning requirements
Warehousing and Production
We handle all aspects of sign production in-house.
You will never be charged for production costs or storage.
Saturday and Sunday Sign Monitoring